Yoga
Yoga For Beginners, 6 Simple Tips
One of the beauties of this century it that you can surf the internet, find and learn almost anything by following some simple must-know tips from experienced people – yoga for beginners is no exception!
A lot of beginners don't know where to start and do things randomly…
With time, they learn things and get to the next level…
But, there are some tips that experienced people can tell and beginners will not have to go through some experienced which are simply wrong.
As a result of making these mistakes people often:
Waste time
Get hurt
Become skeptical
Quit
All of these can be avoided by just following simple tips that are tested by time…
Everyone get's to them with time, but how about to skip that time and get the results right away?
For this matter, we collected some tips that we think are crucial must-know tips for anyone who is interested in yoga for beginners!
Let's go through it step by step… Pay attention to all of them and remember – All of these tips are based on experience!
Yoga For Beginners, 6 Simple Must-Know Tips
1. Yoga Is A Part Of Your Daily Routine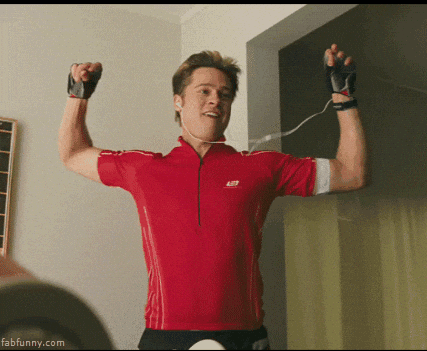 The most important (and probably the best) thing about yoga is that it is effective and enjoyable at the same time.
You don't need to look at your yoga workouts the same way as you might feel about weight workouts, pilates or cardio…
The great thing about yoga is that you are actually enjoying the process so much that you don't even notice how time flies…
You just ENJOY it… Therefore there's no reason why you shouldn't feel about your yoga session as something you are looking for…
And it will get you some terrific results at the same time?! Wow…
Let's look at this…
You feel fresh once you go to the bathroom and wash your hands in the morning…
You feel satisfied once you eat after being hungry for a while…
You enjoy going to sleep after a busy day…
Aren't these things true?
However, you do them every day and it doesn't change the fact that you enjoy them EVERY DAY as you did the first time, don't you?
Same thing with yoga…
Make it a part of your daily routine, look at it as something you can't wait to get to and you will never skip your workout again!
That's just a beginning and the first one of must-know tips!
2. Give it some time
First of all…
Once you start doing yoga exercises, you will notice that you are not able to do all of them correctly…
If you want to get there and do everything as it should be done, remember…
It takes time!
At first, you might not be able to enjoy the process right away…
You know why?
Because you will be thinking too much about doing everything correctly… You are not relaxed…
And guess what?
It takes time before you will understand yoga!
You might not understand how long your sessions should last at first…
Or you may be confused with what you need.
Don't worry…
With time – you will get there!
3. Simple Plan

Everyone practicing yoga should know that you don't just jump right into it and do some random exercises for a random purpose…
A huge part of yoga is your state of mind…
It's about how you are feeling about this or that… It's about everything..,
Simple said…
You need to know why you are doing this – Is your goal to lose weight? is your goal to get more flexible? Is your goal to relieve some stress? Well, Yoga is great for all of these… You just need to know why you are doing this and make sure your mind understands and is willing to help your body!
When do you work out? – Once again, don't just jump into it… Understand that just like you need to eat throughout the day and sleep at night, you need to plan your workout and Just do it!
Which exercises are you practicing? – There are so many poses and asanas that one can try, but depending on your goal you can pick some poses and stick to them. Plan in advance and just go…
Get it?
Let's continue with must-know tips! Don't forget these are crucial bits of advice of yoga for beginners…
4. Set Up The Mood
Let's be honest…
No matter how much you are able to enjoy your yoga workouts, you still might find it hard to begin sometimes…
There's nothing wrong with it…
Seriously… Sometimes I'm getting so lazy that I don't want to eat when I'm hungry…
Or how about those times when you need to sleep but feel so tired that you just don't want to go to the bad even though you know it's way more comfortable than your couch?
Simple "Tell yourself to just do it" doesn't work sometimes…
So you can use some help…
There are a lot of ways that you can set up your mood before starting to exercise…
For some people it is music…
For some – it is silence…
For some, it is videos that motivate them…
Whatever your reason is – once you find it, remember it and don't overuse it… You will need it from time to time to motivate you…
Don't waste that method in a usual situation.
5. Warm-Up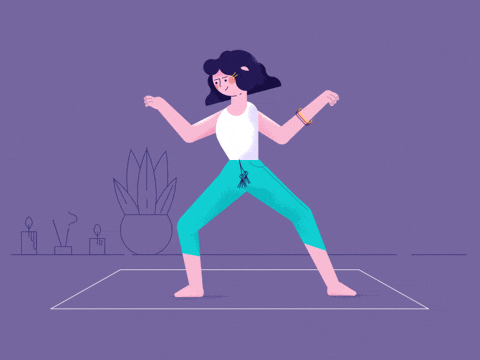 Before starting any type of exercise, you should always warm-up…
Even though yoga poses for beginners are not that tough, you still might want to do some preparation work…
The best way to do so is probably to stretch before starting…
There are a lot of yoga exercises for stretching, but simple stretches are universal for any type of workout as we mentioned…
Don't even ignore this tip! It will help you in the long run!
Ready for the last one out of must-know tips of "yoga for beginners"?
6. Keep A Journal
It's always great to keep track of your results, whether it is for your job or your meal-plan…
It keeps you organized…
Just like that, keeping track of your yoga success can do a lot of great things for you…
Stay organized
Motivate you
Plan ahead
Keep track of everything you did or want to do in the future and it will pay off…
---
These are your must-know tips from an ultimate collection of yoga for beginners!
Trust me, with time you will feel thankful that you did so…
If you want to see more articles like this and get notified about new articles of Kiwi's Plan, follow us on Pinterest or subscribe to our blog!